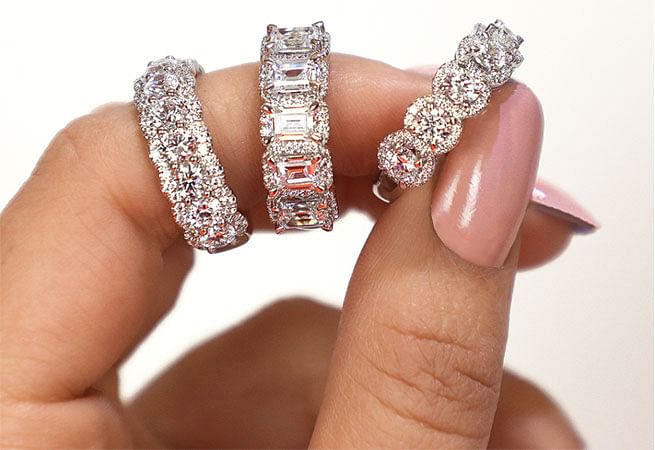 Gabriel & Co Commitment
Lifetime Warranty for any manufacturing defects on registered styles
One-year coverage of damages from normal wear & tear on registered styles
Certificate of Authenticity with unique serial number
Complimentary cleaning twice a year at a retail partner near you
Free Shipping to anywhere within the U.S
30 Day Hassle-Free Returns
Best
Sellers
Best Sellers
Women Wedding Rings and Men Wedding Bands
OUR ASSORTMENT OF WEDDING RINGS:
Our passionately curated medley of wedding rings has a befitting option to suit every preference. We offer stunning wedding ring styles with variations across diamond weight, ring settings, stone shape, metal type, and design aesthetic. To reflect their taste and individual style, one may choose from an impressive selection of wedding bands, eternity bands, curved bands, straight bands, jackets/enhancers, and fancy bands as their wedding ring. We design these rings with precious metals like yellow gold, rose gold, white gold, and platinum. Though most wedding rings are designed in 14k gold, one may place a customization order for an 18kt gold composition or even in platinum metal, if desired.
GABRIEL & CO. WEDDING BANDS:
With a Gabriel & Co. wedding ring, you can be sure of adorning the finest wedding ring on your finger. Our meticulous team handcrafts each wedding ring with an inimitable passion, coupled with skillful artistry, precision, and remarkable finesse. We adhere to the highest quality standards as that is the only defining benchmark of luxury. For this reason, only the most high-quality diamonds, gemstones, and precious metals are used in all our wedding rings. These stones are conflict-free and bear the highest marks of authenticity. We define our wedding ring designs not just as stylish but very progressive and empowering at the same time. While some designs draw inspiration from nature's ethereal beauty, our designers also refer to the various cultural influences from across the world to embed in their creative designs, making our rings a piece of beauty to marvel at. Each ring can be customized for size and metal type and bears the Gabriel & Co. logo and a unique serial number for identification. As a commitment to our standards, we extend a 'Certificate of Authenticity' with every purchase and offer lifetime warranty for any manufacturing defects on registered styles.
THINGS TO CONSIDER:
If you plan to wear your wedding ring each day, comfort should be a key consideration. Consider the fit, design, and similar aesthetics if you seek to pair your wedding ring with the engagement ring. The perfect size of the wedding ring is significant, as even slightly loose, or tight may be discomforting to wear. Consider quality and warranty the holy grail parameters. At Gabriel & Co., all our rings bear testimony to our superlative craftsmanship with our logo and serial number inscribed inside each wedding band. Finally, choose a design that makes your heart swoon every time you see it and the one you can never fall out of love with.